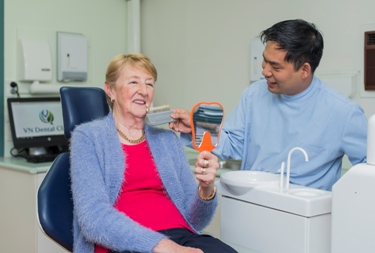 Transform the Appearance of Your Smile-Zone Teeth
Your most visible teeth appear when you smile. Veneers can give your teeth a new, noticeably whiter appearance.
Versatile coverage for your tooth flaws
Your teeth can be damaged due to age, diet, wear, trauma, or ongoing function. Composite veneers or porcelain veneers each provide an attractive tooth restoration that looks natural.
Thin and durable
Your veneers are permanently fixed to the front surfaces of the teeth that are being treated. A thin layer of composite or porcelain material is used to create each veneer.
The veneer is made to fit the unique and natural shape of your tooth structure. They will blend with your surrounding teeth to enhance your appearance.
Your veneers are made to last. They are durable and resist staining. When bonded to your teeth and cared for they will remain attached.
Contact VN Dental Clinic and Dr. Van about your damaged or unattractive teeth. Schedule a consultation to talk about treatment with composite veneers or porcelain veneers.
We only use quality dental labs in Melbourne who construct your veneers exclusively in Australia.

Success Stories