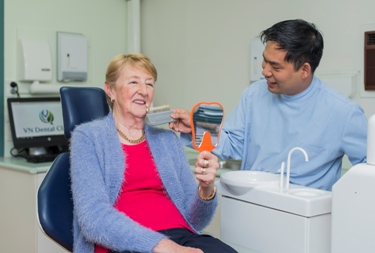 Having chipped, worn down, irregularly formed or badly discoloured teeth can seriously affect your smile and confidence. A highly sophisticated solution to these is veneers. Veneers are thin layers of cosmetic dental material that are glued over the surface of the affected teeth, instantly improving their appearance and strength. At VN Dental Clinic, we provide the choice of either composite or porcelain veneers.
Composite Veneers
Composite veneers can be done in 1 visit. It is a quick and affordable option.
Porcelain Veneers
Porcelain veneers usually take 3 visits over 7 days. Porcelain veneers are significantly higher in cost but can achieve the best possible cosmetic result.
We only use quality dental labs in Melbourne who construct your porcelain veneers completely and strictly in Australia.