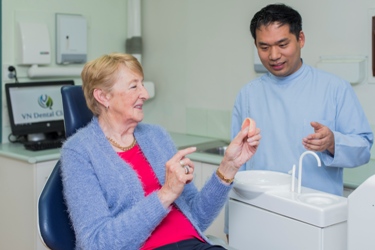 Losing teeth can create several problems including feeling self conscious about your smile, speech problems and most commonly inability to enjoy foods.
VN Dental Clinic offers a range of partial and full dentures. These are an easy, affordable and non-invasive way to deal with partial or complete tooth loss and we take a great deal of care to ensure our dentures look natural and feel comfortable.
At our clinic, dentures usually require 4 visits over 2 – 3 weeks to make.
We only use quality dental labs in Melbourne who construct your dentures completely and strictly in Australia.